As its name implies VariMag stands for "Variable Magnification". VariMag II offers the largest magnification range in the industry by using dual range modular photographic eyepieces. We include two photo eyepieces (1 Low Range and 1 High Range) in every kit as standard equipment. The photo eyepieces are mounted in easy to change proprietary "optics cartridges" for convenience. Try to find another adapter that includes 2 photo eyepieces at any price, let alone at this modest price point. In addition VariMag II uses an infinitely adjustable variable projection unit, so there are no gaps throughout the entire magnification range.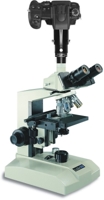 VariMag on Compound Microscope
For further versatility (and future adaptability) we designed the VariMag II system with an interchangeable camera mounting ring so you can use VariMag II on DSLRs of any brand, just order a new inexpensive ($25) ring for the new camera. No need to buy a whole new adapter just because you bought a new camera, and you will also have the ability to share it among other DSLR cameras.Whether you image for biology, pathology, materials analysis or forensics you will find the VariMag system is easy to use and provides professional results. We offer a 30 day No Risk 100% money back guarantee and a 5 year free replacement warranty on all parts.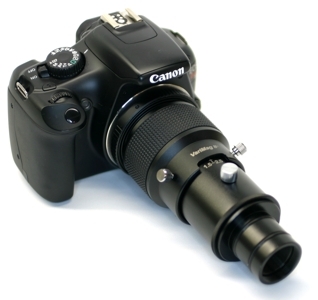 VariMag II mounted on Camera.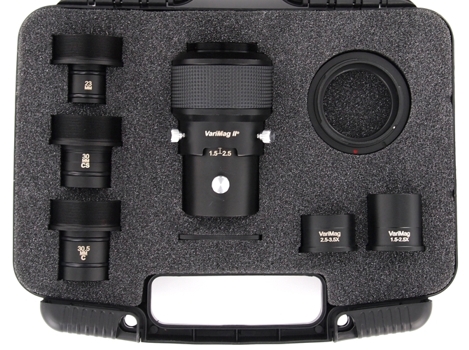 The VariMag II system is supplied in a custom storage case.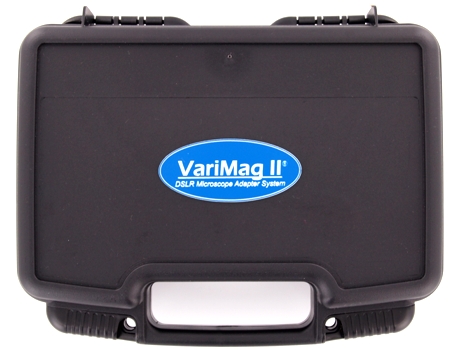 Things to Consider when purchasing a Microscope Adapter

Will it fit my Camera?
The VariMag II system includes one Camera mounting Ring of your choice. We have Rings for virtually all DSLR & MIL camera models. Additional Rings are only $25 should you want to use more than one camera with your equipment or if you change camera brands in the future.
Will it fit my Microscope?
The VariMag II system includes 3 interchangeable mounts offering 5 mounting configurations. It will fit into any common 23mm, 30mm or 30.5mm Ocular Port. It will also fit any standard 1x C-Mount or C/S Mount. If your Microscope is equipped with a trinocular port and you need a 1x C-Mount we have a selection of popular C-Mounts at low cost.
Beware of adapters that use sleeve type spacers instead of providing a full sized barrel for each mount (if you put a sleeve over a 23mm barrel to make it fit a C-Mount you are still shooting through the more restrictive inner diameter of the 23mm barrel, this can result in vignetting).
Does it include a photo eyepiece?
The VariMag II system includes not only one, but two Photo Eyepieces. One Low Range (1.5x-2.5x) , and one High Range (2.5x-3.5x). Many adapters require you to purchase a photo eyepiece separately with costs frequently over $500 each. We have been manufacturing specialized photographic eyepieces for over 15 years, our production experience and makes it possible to include two quality photo eyepieces at this modest price point. The specialized photo eyepieces included with the VariMag system are mounted in easily interchangeable "optic cartridges".
Is the magnification factor fixed or variable?
As its name implies "VariMag" is a variable magnification adapter. A variable magnification adapter offers significant advantages over a fixed magnification adapter. For example you can use variable magnification to calibrate your camera to a known scale, making measurements easier. With the ability to adjust the scale of the image you can better frame your shots. Why limit yourself to a single magnification?
Does it have quality optics?
The optic cartridges included with VariMag II are guaranteed diffraction limited and use a 4 Element/2 Group optical system. The lens edges are blackened and all optics are multi-coated on each air to glass surface for superior contrast, scratch and mold resistance.
If your needs are critical beware of low priced hobby grade adapters. You get what you pay for in optics. Low cost adapters typically have vignetting, color fringing and spherical aberration. If it were just a mechanical adapter it would be one thing, but optics require exceptional precision with accuracies measured in wavelengths of light. Anything lessdestroys the fidelity of the entire system.
Can I measure with it?
If you want to measure you need optics that produce a flat and linear image. This is the downfall of many DSLR camera adapters, even units costing several times as much. You may see lots of pretty images on their websites, but you should be asking for only one.. a simple image of close, evenly spaced horizontal and vertical lines at high power. This simple image is like truth serum for optics and it will show plenty about the optics being used. The most common optical defect being "spherical aberration" which will show itself as a ballooning or pincushion effect (Hubble had spherical aberration). The non-linearity of an image with pincushion effect will make accurate measuring impossible.
VariMag II optics are designed to produce flat, linear images. And with variable magnification you control the image scale. That means you can calibrate the image to a known size to make measuring even easier!
Image of a 300 LPI Ronchi Grating showing the flat, linear field of view.
Will it be obsolete soon?
Due to the interchangeable camera mounting rings and flexible mounting solutions your VariMag II system will be usable for many years to come, even if you switch camera brandsand microscopes. We also offer an upgrade path to our previous customers so you can enjoy all of the latest features at a very nominal cost over the original purchase price.
Beware of adapters that only fit a single camera and/or microscope, as a change of either may leave you needing a whole new adapter.


What is the Warranty?
All new VariMag II systems include a 5 year warranty against defects in material or workmanship. We use the finest grades of materials and coatings to insure long life and to provide durable scratch and mold resistant optics. We also offer discounted replacement parts to our customers who have lost, damaged or modified a part of their system.